The manufacturing industry is probably one of the most hard-hit industries during the pandemic. Now, when they are in the process of reviving their business quickly, they need solutions like AI (Artificial Intelligence) and ML (Machine Learning) to bring down labour costs, minimize downtime, boost workforce productivity, and increase overall production speed.
The global manufacturing industry is already one of the primary industries using these technologies to the fullest. The latest stats says investment in ML programs is growing at the rate of 25%. And manufacturing is among the other industries witnessing the highest investment growth since last year.
On the other hand, AI in the Manufacturing Market size is expected to grow at 40% CAGR between 2020 and 2025. It is the rise in venture capital investments in AI fostering AI adoption in the manufacturing industry.
Also, Google Trends shows that people are constantly searching for "AI in Manufacturing" for a couple of years and at times the search is higher than ever before.
Indeed, AI and ML are an absolute necessity to the manufacturing industry, and for very good reasons.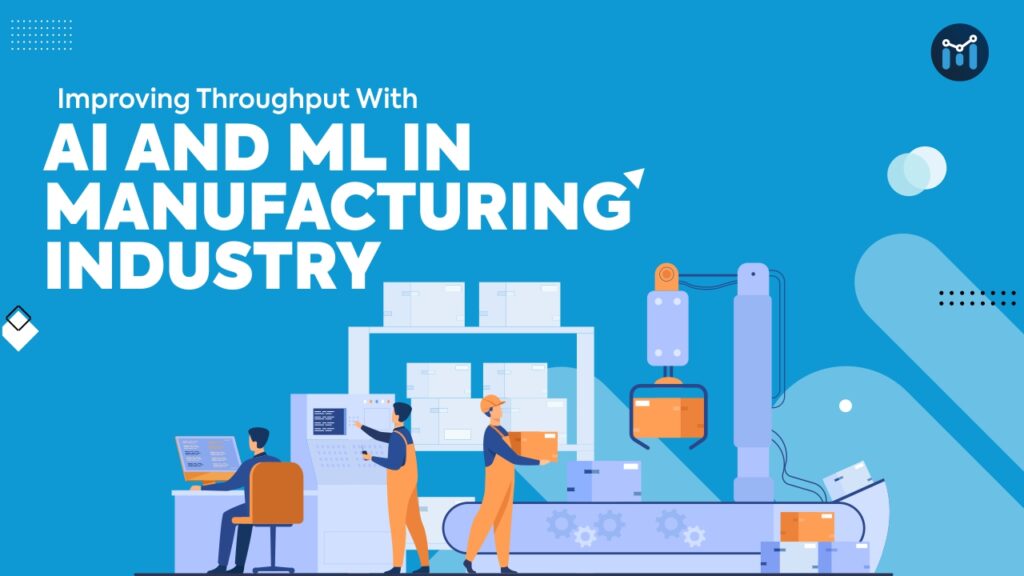 Here are some of the top ground-breaking benefits of AI and ML in the manufacturing industry:
1- Prevent Downtime
Machinery used in manufacturing units might go through defects, impacting your production quantity and quality, leading to financial loss. The loss can be worse if your unit faces downtime. As per the research conducted in 2015, even a small business encountering unplanned downtime can cost a company as much as $427 per minute.
The issue with the flaws in machinery is that they are not easy to detect. At times these defects can be so deep and complex that even experts cannot spot them through regular observations. 
AI and ML-based tools are designed to find the flaws in the machines of any level, from extreme to minor, causing inherent defects in products. These advanced tools use AI automation identifies defects in the machines, thereby removing any irregularities in the products of the production line. Over, it helps you fix the issues before things go out of hand.
2- Better Production with Digital Twin
AI in manufacturing allows business owners to experiment with the virtual representation of their real-world product, called digital twins. The concept of the digital twin is still new in the Asia-Pacific region, but a recent stat says, its market is anticipated to witness a CAGR of 35.01% within the forecast period 2021 – 2026.
Using digital twins, businesses can have a detailed understanding of their products and conduct experiments to enhance product performance.
The most essential benefit of digital twins is in product development. Using the data collected from virtual twins, manufacturers can find ways to improve quality and produce better products. Here are its three primary uses:
The digital twin is beneficial in producing personalized products that require individual attention. Manufacturers can design different permutations of the product for appearance and performance based on customer's demands.
Using digital twin, it is also possible to determine quality issues. Manufacturers can monitor and analyse the process of production to find if the product performance is lower than what is predefined.  
 Manufacturers get a better idea and estimate of resources used. Therefore they can pre-empt and automate the refilling process.
3- Generate Endless Designs
Machine learning and Artificial intelligence form the primary base of generative design software used widely in the manufacturing industry to generate designs. 
ML and AI enable generative design software to produce numerous possible designs without much of human effort. The user simply has to enter design parameters, for example, product material, size, weight, pattern, type, manufacturing method, and cost constraints. ML and AI then use their algorithms and predefined programs to generate designs on the basis of inputs.
Users don't have to create a design process using their learning and ideas. With the software, manufacturers can quickly generate numerous design options for a single product.
4- Optimize Production Process
Delivering accurate products in a stipulated time is the biggest challenge for manufacturing organizations, especially when they have multiple factories located in different regions. In such a scenario, building a consistent delivery system becomes difficult. 
This is exactly where AI-based process mining tools come into play. The objective of the process mining tool is to extract data from event logs. Since it uses techniques related to the fields of data science and process management, the tool also analyses and evaluates the information to help manufacturers find solutions.
Usually, the tool compares manufacturing duration, cost, and the number of workers required to find out the exact point of bottleneck and streamline the process by taking appropriate actions.
Many of the latest process mining tools incorporate advanced Root Cause analysis and AI-based Clustering analysis, which are compatible with enterprises of any manufacturing sector. These techniques enable organizations to determine and remove bottlenecks in the organization's processes, hence optimizing their processes to achieve sustainable production levels.
5- Improve Quality Control
A manufacturing company having a good quality system in place ensures customer loyalty, customer referrals, reduces wastage, improves safety, increases profit, and  builds a reliable corporate image. All these benefits make quality control paramount in the manufacturing process.
Machine learning algorithms are playing a vital role in improving the quality of the end product. These algorithms perform a deep examination of the product produced to identify the anomalies in the product's design, function, performance, and packaging.
As per the study conducted by McKinsey & Company, Inc., the application of ML in anomaly detection in manufacturing units can boost the success rate of quality control up to 90%.
Furthermore, ML when coupled with AI carries out an in-depth analysis of the availability and performance of the manufacturing equipment.
6- Enhance Supply Chains
In the pandemic, everyone witnessed huge supplier deficits, backed-up transport networks, and an incorrect calculation of ESG (Environment, Social, and Government) metrics.
Presently, supply chains are upgrading their visibility and agility to avoid the situation they faced earlier. A straightforward solution to this is to find a way that will estimate the market changes in advance. AI and ML can help supply chain managers to create a better strategic vision by providing suggestions for possible market conditions in the future.
Artificial intelligence analyses a number of factors like political situations, weather conditions, consumer behaviour, and economic status to come up with possible future situations or circumstances. The calculations for staff, workers, inventory, and the supply of materials can be done as per the predictions.
While large enterprises have already adopted AI and ML in their supply chain and invested millions in its development, medium and small companies are yet to embody the concept of smart automation in the supply chain.
As discussed previously, machine learning and artificial intelligence have a multitude of capabilities to predict market conditions. The ability can be equally beneficial in managing inventory.
So far, manufacturing organizations are relying on traditional demand forecasting methods. But AI demand forecasting tools are known to provide more precise results compared to traditional demand forecasting methods.
According to the survey conducted by Gartner, demand forecasting as a machine learning application is highly reliable in supply chain planning. Almost 45% of companies have already adopted the technology, while 43% of them are planning to use AI-powered demand forecasting by 2022.
With the technology, manufacturing companies are now able to manage their inventory levels with great efficacy and prevent any possible mishaps.
8- Leverage Predictive Maintenance
AI and ML are excellent in detecting flaws in machinery and their performance. At the same time, they are also incredible in predicting the possible faults that might occur in the manufacturing machines.
Machines and equipment demand maintenance, which is highly expensive in the manufacturing industry. If regular maintenance is not done on time, it might invite unplanned downtime and resultant losses.
This is where AI and ML can help the manufacturing industry by predicting when the specific machinery needs maintenance.
Neural networks and machine learning incorporate complex algorithms that accurately forecasts the status of machinery and assets. Hence, predict equipment breakdowns before their occurrence. It enables manufacturing companies to predict and schedule the maintenance of machines and equipment while avoiding unplanned downtime.
9- Enhance Safety at Workplace
The safety of the workers at the workplace or manufacturing units is the responsibility of the owner. Over thousands of injuries are reported by the workers in factories each year.
By detecting flaws in machinery and predicting required equipment maintenance, AI and ML can significantly prevent the number of accidents in factories. It is especially suggested for high-risk industrial sectors where employee safety is a primary concern.
10- Reduce Cost
Manufacturers using AI and ML in their business can see their operation costs reducing in different ways.
Since AI technologies boost organizations' analytics capability, they can utilize their resources more efficiently. On the same note, they can forecast the market situation better and minimize inventory costs.
Also, they can maintain a better balance between supply and demand, without impacting their budget.
Predictive maintenance, discussed above, is another technique that would ensure manufacturers avoid downtime costs and eliminate maintenance costs.
By incorporating AI and ML based maintenance, asset owners are moving from simple scheduled and preventive maintenance to condition-based maintenance (CBM). Conditioned-based maintenance uses AI/ML algorithms, which analyses the condition of an asset through visual inspection  based on data captured from different sensors and cameras.
It results in reduced number of unplanned failures, improved workers' safety, increased asset life-time, minimize inventory cost, and improved margins as well as productivity.
Summary
In recent years, organizations in the manufacturing industry have realized the significance of AI and ML, and the opportunities they open for them. Undoubtedly, AI and ML-based tools cut downtime, improve work efficiency, and ensure high-quality end products. However, to survive in this highly competitive industry, make sure you choose advanced AL and ML tools customized as per your individual production requirement.