Manufacturing Execution System (MES) or Manufacturing ERP systems has the fastest growing market in the Asia Pacific region with a predicted CAGR of 15.4%. The statistics entails that the MES is extensively being adopted by the manufacturing sector and is not limited to large enterprises only. Small and medium enterprises are equally showing interest in shifting towards this solution to connect, monitor, and control the complex manufacturing systems and all the relevant data that flows on the factory floor. Implementing Manufacturing Execution System in Small and Medium Enterprises can give your production and profit a serious boost. But at the same time choosing the most appropriate MES for your organization can be tricky, especially when Manufacturing Execution System can cover a broad range of capabilities and no two MES are alike. Therefore, a company's individual set of requirements becomes the primary factor for the selection of the right MES.
Before you make this crucial decision for your company, make sure you are aware of MES in deep and things to be kept in mind while buying one.

Who needs MES?
Any enterprise, whether small or large would require Manufacturing Execution System or Manufacturing ERP systems in need of better control, enforcement, and clarity to handle production lifecycle execution. By integrating MES with the supply chain, manufacturing companies will be able to manage production with instant data, detailed orders, world-class user experience, and knowledge. Companies would also need MES to achieve real-time insight into manufacturing environments, to analyse product cycle time and increase production output, to swiftly identify mistakes and bottlenecks, and calculate labour utilization and cost.
Who Uses MES Software?
A team or specified employees who are involved in production mainly uses an MES platform. It may include plant managers, process engineers, and operators.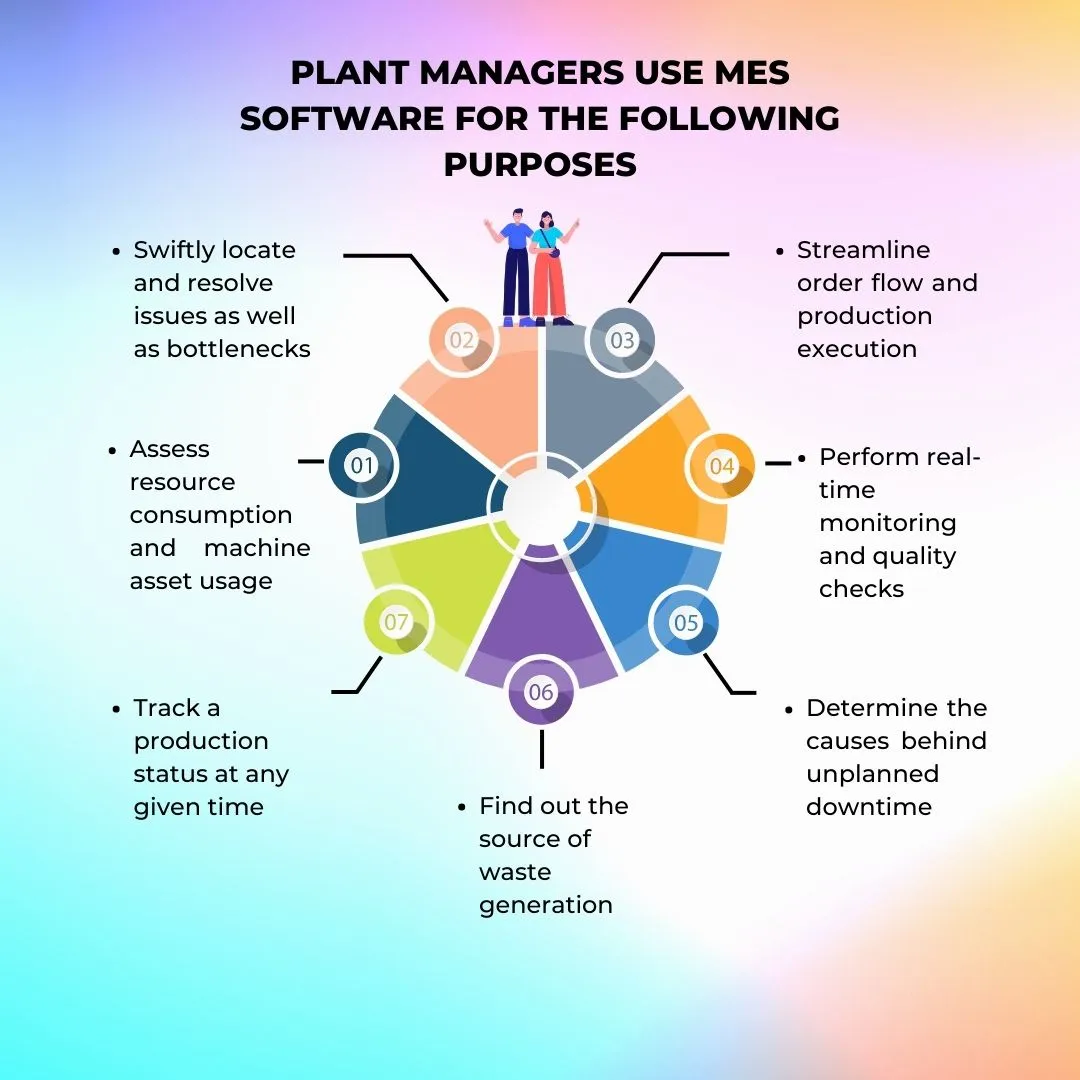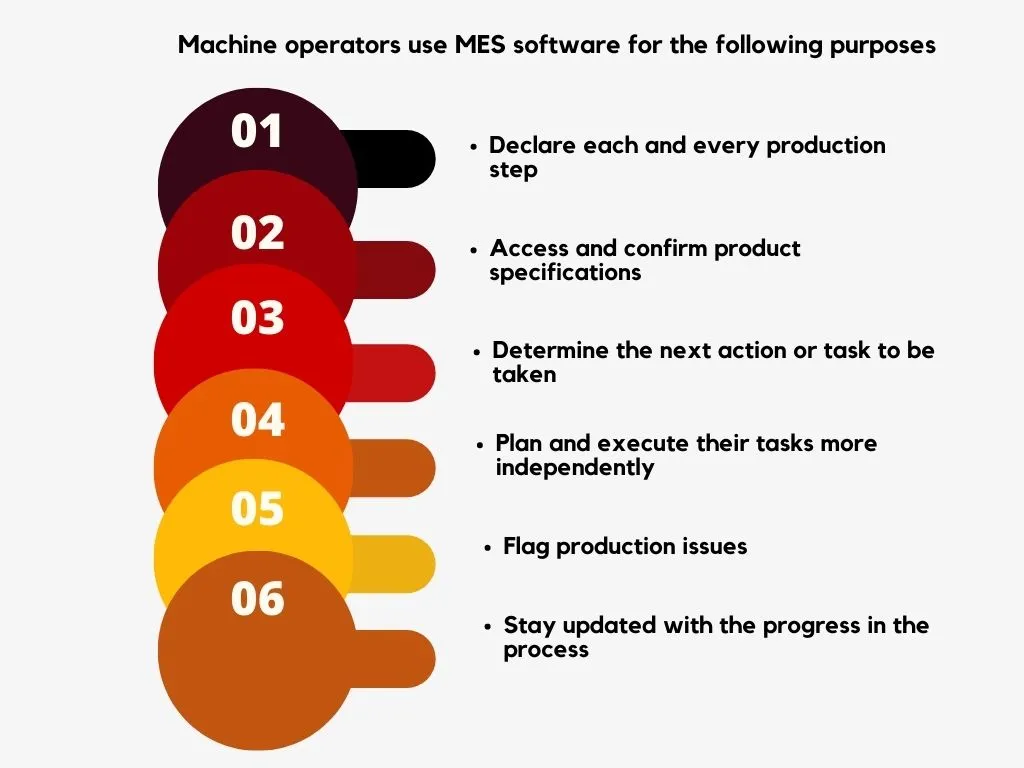 How Small and Medium Enterprises can Leverage MES
In recent times, MES has turned into an inevitable part of large manufacturing enterprises. However, MES has several benefits that make the software equally necessary for medium to small businesses. Here are a few solid reasons to agree:
Typical small and medium manufacturing companies use older systems, cobbled together systems, or even at times manually manage the production system. An MES can replace an older system with advanced functionality and analytics, allowing accurate and best practice materials management and production execution throughout the company.
With MES, an enterprise gets a centralised system for reporting and communication within all production segments. It eliminates the need for an individual system for each department. The system integrates the material and business controls into a single platform with real-time data and analytics. Hence, managing production becomes easier even if the company grows bugger and production volume exceeds.
As a company grows, it diversifies its product line with new and more complex production iterations, which may cause difficulty for the plant managers and machine operators to manually manage or keep track of the whole production process. Even using older systems can impact the planning and purchasing required to get materials and introduce inefficiency into the manufacturing operation. MES is designed to handle advanced and complex production processes.
Please read our blog on Rise of Smart Factory in today's Digital World , which will give more light on increasing percentage of Smart Factory and another blog on Real time data will give how can it increase your visibility.
Benefits of MES
An MES can benefit a company with in-depth tracking capabilities, planning, and enhanced communication. There are various other reasons why it can be a boon to small-scale manufacturing companies as well.
Inventory management: Typically, Manufacturing Execution System provides a full suite of inventory management and tracking tools. Both large and fast-moving inventories are manageable using their advanced features.
Communication: MES brings all staff from different production departments on a single platform to communicate their development on a certain project.
Automation: It opens up many possibilities for automated processes. For example, a production manager can use production scheduling and material requirement planning (MRP) features of MES to implement algorithmic changes to the production operation. It will make the operation adaptable to automatic changes in resource cost, product demand, staff availability, etc.
Real-Time Visibility: MES provides a real-time view for shift supervisors to empower teams, their accountability, and responsiveness. Therefore, line operators are able to operate better and adapt faster if any difficulty arises in work orders and process data management.
Standard Operations: It automates business operations by standardizing procedures like routings and workflows, health and safety procedures, and up-to-date documentation on the line.
Reduce Operational Costs: MES reduces labour costs as the production execution system monitors the machines and the progress of jobs. Also, the system automatically collects the information and improves accuracy that saves the time of operators, and reduces indirect labour costs. Further, it optimizes the process control of the quantity of material, which reduces material wastage costs.
Replace Papers: With MES, the users get spreadsheets and standalone databases to manage production data. All departments get a unified view of data and work together on individual systems, eliminating the need for a bunch of paper files.
Improve Flexibility: MES can be built as customized production solutions, which will allow users to introduce a new product faster and integrate new processes, factories, and personnel smoothly. At the same time, it can react fast and appropriately to unplanned events. Users can also integrate with supply chain software solutions easily.
Increase Uptime: MES focuses on increasing the uptime of the equipment that consequently improves employees' uptime. It confirms that the right equipment and resources are available in production and that machines are set up, runs, and managed promptly.
Faster Processes and Productivity: MES provides instant access to vital records, such as menus, BOMs (bill of materials), SOPs (standard operating procedures), genealogy, and more, which are time-consuming otherwise if done manually. Also, it makes users achieve faster product flow by optimising orders with scheduling personnel, material, and equipment.
Why is it essential to be careful while choosing MES?
Implementation of a Manufacturing Execution System or Manufacturing ERP systems takes time and the amount it costs can be substantial to a small or medium company having limited capital. Besides, a product like MES has a long lifecycle, probably longer than any manufacturing equipment. Further, there can be additional costs in the form of data entry, training, maintenance, software updates, support, and other potential cost minefields. If the selection is balanced, an enterprise can draw the benefits of increased efficiency and cost reduction in manufacturing. Conversely, the choice of the wrong system can cost heavily instead. It is imperative that the decision-makers or users strongly consider a balance of cost, usability, and especially the unique needs of their company within their industry.
What to Look for in an Effective MES for Small and Medium Enterprises
Not all Manufacturing Execution Systems are alike. While reviewing the best software providers for manufacturing, it is essential to assess each one as an overall package. Primarily, cost efficiency, support, and competitiveness are factors companies consider. Additionally, buyers need to focus on the following four industry-specific elements as well.
Safety and Security of Data with Privacy Control
Employees are provided with the accessibility to MES to enter and view data related to production updates, raw material, orders, etc. Since these bunches of information are crucial to the company and are likely to encounter intentional data breaches or theft, they need protection. Hence, an effective MES must offer a privacy control feature to control the accessibility of employees or people involved in the production. Also, a cloud-based MES is a good option to ensure the safety and security of data.
Integrations
MES requires data for the predictions, calculations, and other functions, and it performs best when integrated with as many sources as possible. Popular and most needed integrations include ERP, an email system for online ordering, customer relationship management (CRM), HR software application, and workforce management systems. ERP integration is the most essential as it collects data at every conceivable stage of the production process, which in turn leads to greater efficiency and more hands-off automation.
Reports
The reporting capability of MES is also a primary factor for its selection. The majority of systems include financial reporting tools or features, but it is also essential that the alerts for reports are shared through email or Whatsapp. This feature will keep users updated all the time with the product development.
Mobile App
An industry-standard MES must provide a mobile app to allow users to access the company information on the go. Any small or medium manufacturing company may need to assign the team the next task required to be completed on an urgent basis or might have the latest changes in order to be shared with the team. An MES mobile application is capable of helping in all these conditions.
Summary
Using an MES ensures the effective execution of all the manufacturing operations and improves production output. While there are numerous manufacturing execution systems in the market, choosing one can be a challenging task.
To ease the process, it is wise to start with knowing the product and the needs of your company. Besides, cloud-deployed MES is highly recommended to ensure remote accessibility and security.