The shoe and textile industry still falls under the category of traditional industries. This is where shoe manufacturers from small to medium scale enterprises rely on legacy pen-paper-based logs to record data to manage their production. As a result, the production data is either not insightful enough or not real-time.
Considering the global supply chain and Lean inventories that many of the global brands practice today, shoe and apparel manufacturers cannot continue to follow traditional methods of data collection.
This is specially true when the global apparel market is projected to grow in value from 1.5 trillion U.S. dollars in 2020 to about 2.25 trillion dollars by 2025, despite many rounds of pandemic waves.
Thus, it is imperative for footwear and apparel companies to improve their production management so that decision-makers get enough time to take the necessary steps.
The advancement in the production management system or production and operations management software has emerged as a quick solution to this industry. Let us see how the industry can leverage the solution to make their business more profitable.
Why Apparel & Shoe Manufacturers Need a Production Management System
Some intrinsic characteristics make production tracking fairly challenging and complex. For example: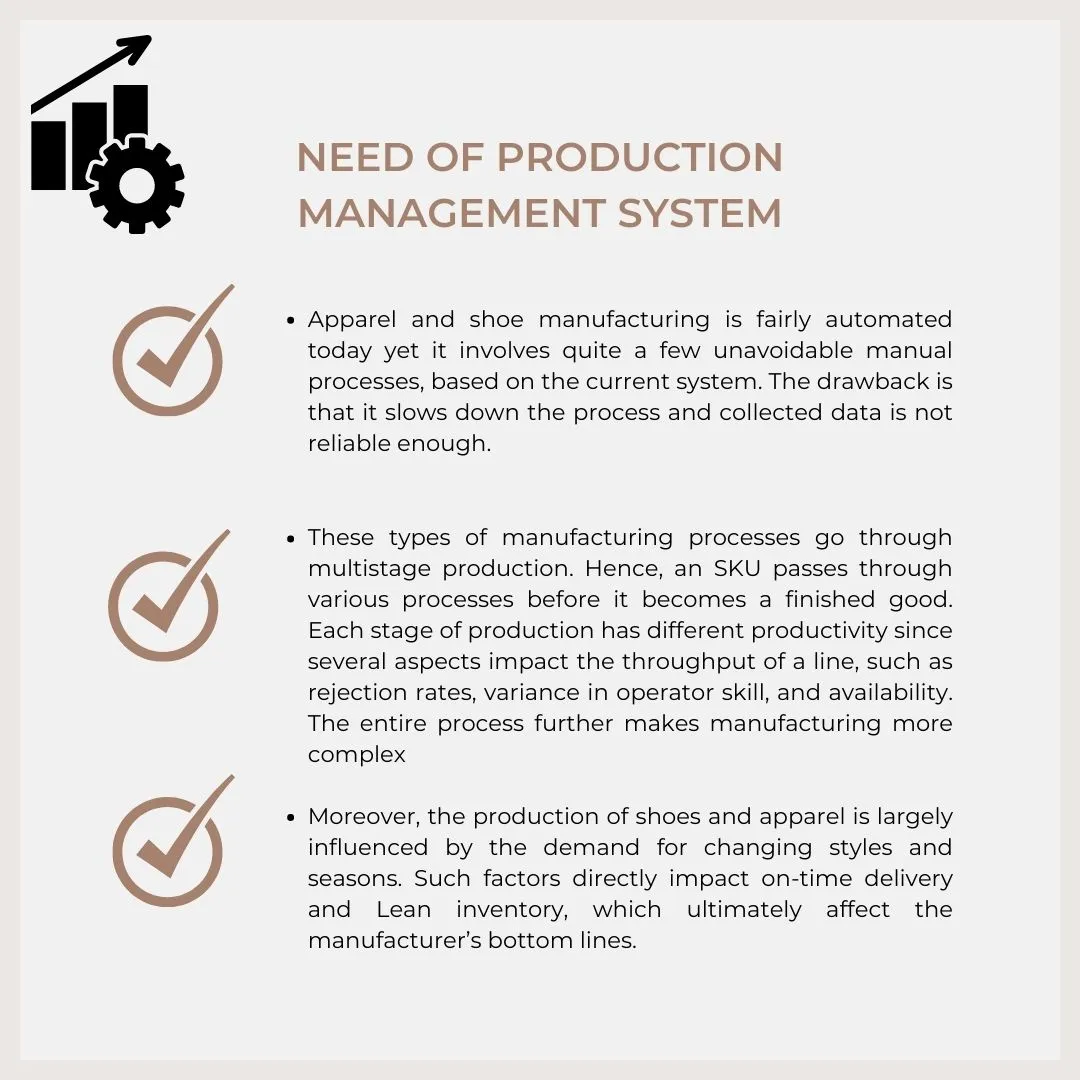 Hence manufacturers not only need an advanced production management system but also require integration with their CRM to be able to better track customer orders on their shop-floor.

What do Shoe and Garment Manufacturers Should Look for in a Production Management System
Simply digitizing Pen-Paper Log formats into a digital platform or other spreadsheets does not suffice the need for a production management system for shoes and apparel manufacturers. Also, most manufacturers voice capturing the production data for finished goods only, but that solves a part of the problem.
A business that wishes to practice an advanced production management system should:
Link production management system with inventory, customer order, job orders, and dispatch.
Facilitate the capture of production data- Ok, Not-Ok pieces at an SKU level for each stage of production.
Be able to capture quality issues and reasons for poor quality in each stage.
Accurately determine cycle time and downtime for each stage of production to achieve better line balancing and manpower planning.
Roster shift allocation for better manpower planning, so as to put skilled operators on bottleneck processes.
Why Apparel & Shoe Manufacturers Hesitate To Adopt Production Management Systems
Apparel and shoe manufacturing is typically a family business and also are of a limited scale and size. As a result, their investment in the business is also limited, leading to increasing margin pressures from their suppliers and customers, all the while their shipment volumes keep growing.
Nowadays, production management software is offered by many leading software companies. However, many of the manufacturers have continued to stay away from using them for the following reasons: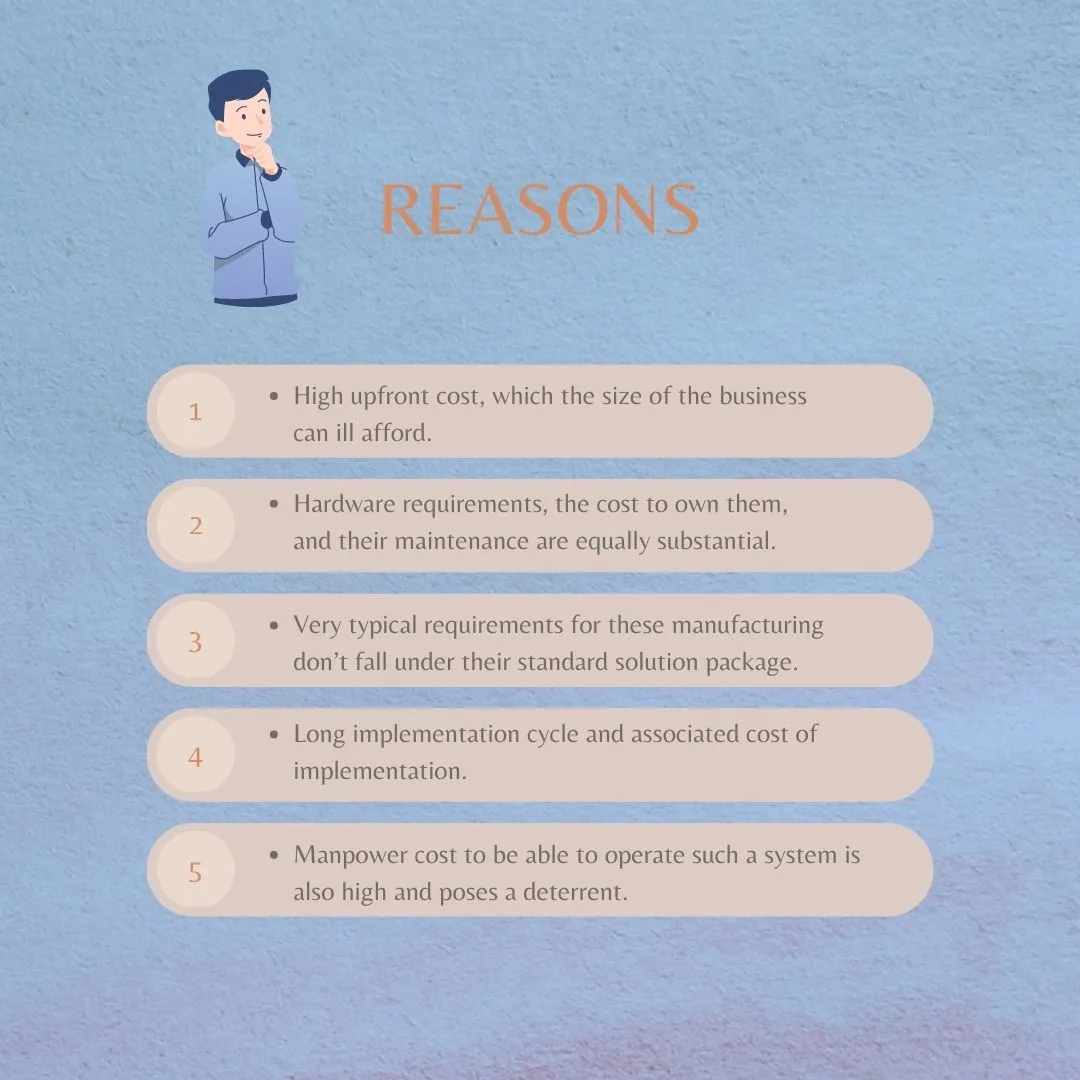 How Apparel & Shoe Manufacturers Can Adopt Production Management Systems
Despite the above-listed issues, the need and significance of the production management system in manufacturing cannot be ignored. There are ways to enable the usage of production management systems by companies with a limited budget.
Here are a few solutions, considering customer's pain points:
Avoid software platforms asking for the upfront cost. Choose the basic subscription model available at a reasonable price.
Go for a cloud-based solution, as it reduces hardware cost and maintenance.
Prefer customizable forms and dashboards to benefit both the users and decision-makers.
Look for a solution offering short implementation time to save your precious time.
How Successful Production Management is Achieved?
The first step towards achieving successful production management is to analyze the needs of smart manufacturing. Every successful production management requires:
Management of 5Ms (Man, Machine, Material, Method, and Money)
Building method for production planning, production scheduling, and production control.
Assessing and rewarding the employees based on their performance.
When you aim at managing the above requirements, you need a reliable solution. A production management system is designed to help you successfully achieve the production management requirements and consequently allows you to effortlessly optimize material cost and time spent on production. Plus, you maintain the quality and significantly increase productivity.
Summary
The demand for clothing and shoes is on the rise across the world. In this scenario, going the old fashioned way will surely be an obstacle in the market competition.
An advanced and effective project management system is an instant solution to match up the ever-increasing competition in the market. However, you must ensure that the system you choose matches the needs and the size of your manufacturing unit.