Managing Inventory Flow for an SMT Line
SMT Lines is a high throughput, most modern means of Electronic Component production. These are kind of pick-and-place machines that place a large number of electronic components on a Printed Circuit Board (PCB). 
Our Customer Profile: A large Japanese Electronic component manufacturer primarily supplying to the automotive industry. The SMT lines would work 24×7 in different shifts. 
Challenges faced: Large number of components were issued from the main warehouse and stored in different shelfs/locations in the local warehouse. These components were issued from the main ERP (Microsoft Dynamics).
Following were the challenges faced by the manufacturer:
No visibility into inventory of components on the Shopfloor. Records were maintained in Excel files and it was difficult to manage.
Since the throughput of inward and outward inventory was high, a lot of time was spent in recording such entries .

Components that were issued looked similar visually and there could be cases of wrong component getting issued to the production leading to failure of product in the later stages of production.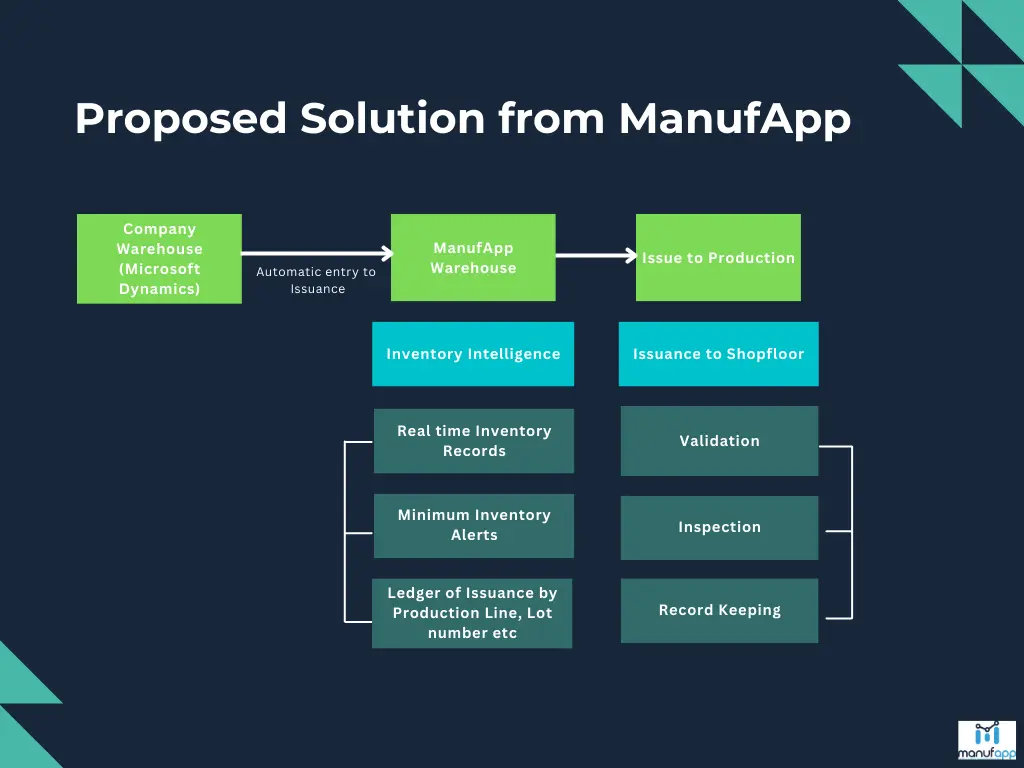 Automatic entry of issuance: ManufApp and the customer realised that it is not only important to provide forms but to make the entire process efficient for the frontline workers. ManufApp built a connector to seamlessly record issuance of items from the company warehouse. More than 1000 entries were done without human involvement and duplication of effort 
Real time inventory records: ManufApp categorised all the inventory into different groups so that analysis is easy. Minimum inventory alerts were set so that alerts are set whenever inventory of a particular item goes below a particular level. Loss of production because of lack of inventory was completely eliminated through these intelligence systems. 
Validation of items: At the time of issuance of items, the barcode of the item issued was checked against the request note. Till all the items issued matched with what was requested, the request note was not approved. This ensured that there was a significant reduction in the rejection during the downstream processes.