Modern fast-paced manufacturers are under extreme pressure to increase throughput, meet quality, minimize costs, and activate product personalization. Therefore, manufacturing organizations of different sectors are increasingly adopting the MES (Manufacturing Execution System), as an advanced and powerful solution. MES applications are available in different shapes and sizes. Some of them are home-grown applications while others are off-the-shelf applications. Both offer real-time visibility and control over operations in support of greater agility and optimization.
Hence medium enterprises, having both the ability and capital to build or buy MES are often in a dilemma whether they should develop their own MES or go for the pre-built applications. If you consider the latest stat, it says the market size of the global Manufacturing Execution Systems (MES) was USD 11.56 billion in 2020, which is expected to reach USD 27.3 billion by 2026 , growing at a CAGR of 15.4% over the forecast period (2021-2026).
It is a clear indication that the manufacturing industry is largely relying on ready-to-use MES applications. But how is it equally beneficial to medium-sized businesses?
This article unlocks the reasons why buying MES is a smart choice even for medium-sized enterprises.
Drawbacks of Homegrown MES
[/vc_column_text][/vc_column][/vc_row]
Companies decide to have homegrown MES after a detailed evaluation of off-the-shelf software. There are two possible unfavorable conditions.
First, they don't like the price and second, they don't find the business fit they are looking for. Rather than paying more to customize the software or change their business practices, they prefer to build homegrown software using their internal team of local programmers. Now comes the critical issues that start to unravel after a period of use, such as:
Ultimately, the homegrown system turns out to be a costly project and the business comes at risk if something more changes.
Challenges of Building Homegrown MES
Developing a comprehensive, thorough MES is a daunting task to even project champions. This is because of the fact that today's shop floor is complex and possesses a continually varying environment. The MES needs to be adaptable to the level of variation that is typical in a growing business. An effective MES automation should be able to control the highly critical details of a typical plant shop floor.
The most common causes of variation on the shop floor include:
 Machine or equipment breakdowns
Labour absenteeism
Updated equipment or machine times
Maintenance and cleaning period
Variations in delivery dates
Quality issues
Alternative task plans
Availability of transport
Availability of resources of good quality
Modifications to reduce process times
Inclusion of multiple and new SKUs for manufacturing
It becomes imperative to provide the right tools and critical information to your front-line shop floor personnel to ensure product manufacturing in the most optimal manner possible. Therefore, the manufacturing execution system should be operational on a real-time basis, in order to allow the staff to respond to immediate variance on the shop floor.
Real-time production quality records in MES will help make faster decisions on issues like cost overruns, poor quality and late deliveries.
Why Buying MES is Beneficial?
Off-the-shelf MES is designed to keep the standard requirements of manufacturing units and therefore, they fit into any industry.
Besides,there are other advantages listed below: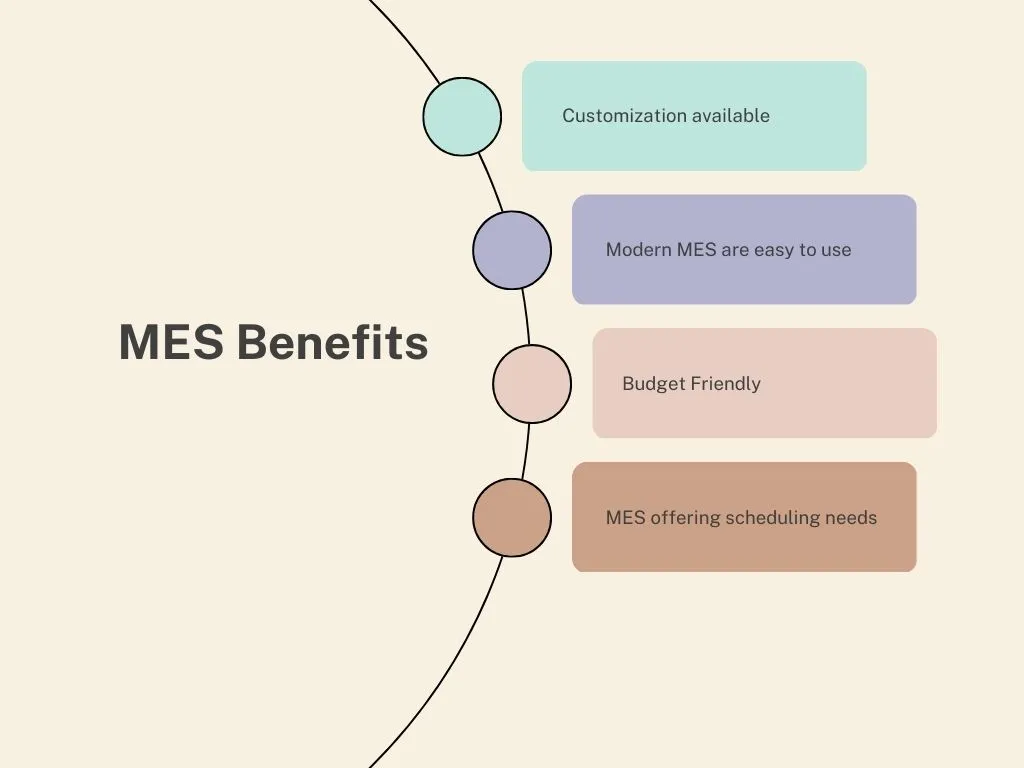 There are many customization options to enable you to turn the software as per your needs of the shop with a complex environment involving a high level of variety.
Some MESs are industry-specific that target particular issues while others are generic. Hence, you get a choice to make as per your budget.
Similarly, there are also options for MES available as text-based or with all the graphical goodness of a modern UI to match your budget and requirements.
Some high-standards manufacturing execution systems will also offer excellent tools to control the scheduling needs directly on the shop floor.
These benefits allow your schedulers to find the key opportunities to improve your production results while being within your set budget.
Is Any Off-The-Shelf Custom MES, an Appropriate Solution?
Often companies prefer regional vendors as they can negotiate on a competent MES and win the rights to the source code to tailor the system to their preferences.
However, over time, as the customization grows deeper and deeper and more products are bolted on, software fails to respond as expected. By now, the vendor is no longer available, the system becomes irretrievable and tools are far behind from modern technology.
While the benefits of a custom MES are substantial, the risks and expenses eventually become overwhelming. Therefore, the best practice is to work with an established MES vendor. These vendors have experience and expertise in writing special codes to meet critical business needs that are included in the ongoing mainstream base of the system. The codes work as future updates that comprise special features so that they do not have to be reprogrammed with each new release.
Besides, custom systems can be the ones that require local installation that is also called on-premise MES systems or others running in the cloud. A large segment of the manufacturing operations integrates with a cloud-based MES to keep up with advanced functionalities.
How are Cloud-Based MESs Better than On-Premise Solution?
Cloud based MESs are more common within medium manufacturing.
Here are some reasons:
It is more efficient and is cost-effective than on-premise solutions. Servers, data storage devices, networking equipment, and other software tools are easier and safer to access in a secure cloud environment.
Cloud-based MES provides decision-makers updated data that is easily accessible even on the phone. It allows enterprises to keep a closer look at all the stages of their supply chain at any given time.
Cloud-based software implementation eliminates the need for daunting up-front time and capital investments. It typically requires integration with the key data sources only, which takes a little more than a few weeks.
The software doesn't require frequent updates. Therefore, server maintenance becomes easy for medium-sized businesses having limited IT resources.
Occasional upgrading fees are cheaper, hence reducing the overall cost of software ownership.
It allows integration with advanced automation, including AI systems to monitor critical manufacturing KPIs, such as production amount, throughput, and work in process levels.
Since these are subscription-based offerings, users are free decide on continuing or discontinuing the service on the basis of the quality served.
Customers do not have to take the risk of development of an MES, all taken care by SaaS based solution providers.
Summary
The growth of MES in the manufacturing industry is the step towards the digital transformation journey. And its popularity is indicating that MES is going to be a more frequently used tool in the near future even among small manufacturing companies.
While there are both on-premises solutions and cloud-based solutions, medium-sized manufacturers with limited capital and IT support look for cloud-based MES as a natural choice. It is uncommon today to see a mid-market manufacturer go for a homegrown solution, especially when there are cheaper, advanced, and low maintenance options available around.